Treat your skin to a luxurious deep penetrating facial with Silkpeel Dermalinfusion. It is one of the most effective non-invasive exfoliating and skin care treatments you will find. Using unique tailored formulas you can have the skin you have always dreamed of. Silkpeel can be used on your face and body leaving your skin refreshed, renewed, and silky smooth. Silkpeel is a great added treatment if you have undergone any laser or light treatments and want to give your skin an extra glow.
What is a Silkpeel Dermalinfusion Procedure?
Silkpeel Dermalinfusion is great for both your face and body delivering optimal skin care results. The procedure is a non-invasive 3 in 1 technology: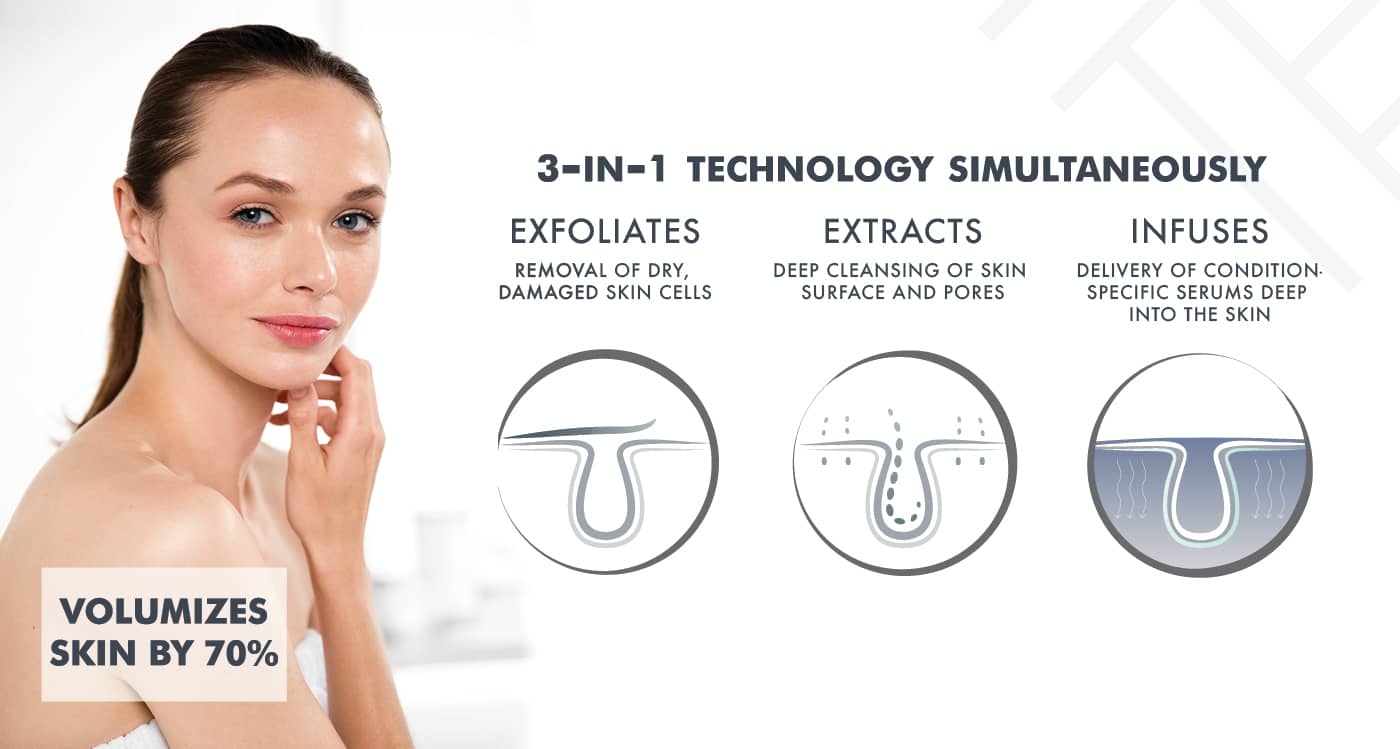 How will Silkpeel Dermalinfusion help my skin?
With so many formulas to choose from you can target and improve skin imperfections and tone all over your body! Silkpeel is great for:
So Many Silkpeel Dermalinfusion Formulas to Choose From
The options are endless with Silkpeel Dermalinfusion formulas. Here are some examples of our luxurious formulas:
Clarifying Formula
Great for those who suffer from acne, this formula contains salicylic acid (great for cell turnover and unclogging pores), aloe (to calm irritation and inflammation), and gentle abrasion to improve tone and texture without irritating the skin.
Hydration Solution
Quench thirsty skin with this nutrient-rich formula that contains hyaluronic acid (to reduce fine lines and wrinkles), aloe (to calm irritation and inflammation), chamomile (to even abrasion and smooth texture without irritating skin).
Vitamin C Solution
If your skin needs a detox from sun, stress, and pollution this formula can do wonders for you! Contains tocopherol acetate (to protect skin from photodamage and improve the appearance of scars and wrinkles), aloe (to provide extra hydration), sodium ascrorbyl phosphate (to brighten dull skin and give a second defence against sun damage), allantoin & dipotassium (an anti-inflammatory that soothes skin)
The Dermalinfusion Body Facial
The ultimate whole body facial that shapes (to improve lymphatic drainage and decrease cellulite), clarifies (to reduce the appearance of acne, sun spots and stretch marks), exfoliates (getting rid of rough, dry and dull skin), and tightens (improves elasticity to sagging skin).
Book your FREE 30 Minute Consult Today!
Since these treatments are tailored to meet your unique skin care needs, it is best to book a FREE 30 minute consultation with one of our specialists. We can guide you on which formula will deliver your best skin results! To book a consultation please contact our office at (306) 477-2100 and one of our qualified staff will be happy to assist you. Don't wait! Your face and body deserves the ultimate pampering today!